Specialist Chevrolet Buyer Will Buy Your Blazer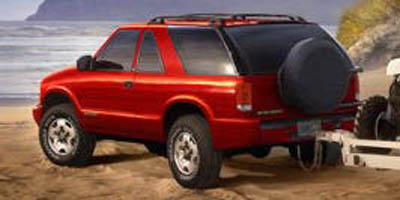 No matter what age or condition your Chevrolet Blazer is in, at webuyanycar.com we will buy your car and give you a check for your Chevrolet Blazer book value on the spot. A leading car valuation specialist with years of experience and expert knowledge of the used car business, webuyanycar.com will immediately pay you cash based on our unbiased and state-of-the-art valuation of your Chevrolet Blazer. Our service is safe and easy, eliminating the hassles that are often associated with selling your vehicle. At webuyanycar.com, we want to buy your Chevrolet Blazer so get an instant online Chevrolet Blazer valuation price by entering your Chevrolet Blazer information right now.
The Chevrolet Blazer is a mid-size SUV, available in 2-door or 4-door body styles, that serves as off-road recreational transport, weekend suburban workhorse, farm laborer and multi-purpose passenger vehicle. Powered by a 4.3-liter V6 engine with a 200 horsepower output, it has front disc brakes with four-wheel ABS braking and front and rear anti-roll bar suspension. Standard exterior features include a trailering harness and intermittent windshield wipers, with camping packages, a roof rack and trailer hitch available as options. The interior provides ample storage space in the center console and door bins, with additional storage option available. The Chevrolet Blazer also comes with standard power steering and air conditioning. Safety features include seat belts and a driver side airbag.
We Currently Have High Demand for Models:
Chevrolet Blazer 1987 V10 Blazer Utility 4WD
Chevrolet Blazer 1988 V10 Blazer Utility 4WD
Chevrolet Blazer 1989 V1500 Blazer Utility 2D 4WD
Chevrolet Blazer 1990 V1500 Blazer Utility 2D 4WD
Chevrolet Blazer 1991 V1500 Blazer Utility 2D 4WD
Chevrolet Blazer 1995 Blazer-V6 Utility 2D 4WD
Chevrolet Blazer 1995 Blazer-V6 Utility 4D 2WD
Chevrolet Blazer 1995 Blazer-V6 Utility 4D 4WD
Chevrolet Blazer 1995 Blazer-V6 Utility 2D 2WD
Chevrolet Blazer 1996 Blazer-V6 Utility 2D 4WD
Chevrolet Blazer 1996 Blazer-V6 Utility 4D 2WD
Chevrolet Blazer 1996 Blazer-V6 Utility 4D 4WD
Chevrolet Blazer 1996 Blazer-V6 Utility 2D 2WD
Chevrolet Blazer 1997 Blazer-V6 Utility 2D 4WD
Chevrolet Blazer 1997 Blazer-V6 Utility 4D 2WD
Chevrolet Blazer 1997 Blazer-V6 Utility 4D 4WD
Chevrolet Blazer 1997 Blazer-V6 Utility 2D 2WD
Chevrolet Blazer 1998 Blazer-V6 Utility 2D 2WD
Chevrolet Blazer 1998 Blazer-V6 Utility 2D 4WD
Chevrolet Blazer 1998 Blazer-V6 Utility 4D 4WD
Chevrolet Blazer 1998 Blazer-V6 Utility 4D 2WD
Chevrolet Blazer 1999 Blazer-V6 Utility 2D 2WD
Chevrolet Blazer 1999 Blazer-V6 Utility 2D 4WD
Chevrolet Blazer 1999 Blazer-V6 Utility 4D 4WD
Chevrolet Blazer 1999 Blazer-V6 Utility 4D 2WD
Chevrolet Blazer 2000 Blazer-V6 Utility 2D LS 2WD
Chevrolet Blazer 2000 Blazer-V6 Utility 2D LS 4WD
Chevrolet Blazer 2000 Blazer-V6 Utility 4D LS 4WD
Chevrolet Blazer 2000 Blazer-V6 Utility 4D LS 2WD
Chevrolet Blazer 2001 Blazer-V6 Utility 2D LS 2WD
Chevrolet Blazer 2001 Blazer-V6 Utility 2D LS 4WD
Chevrolet Blazer 2001 Blazer-V6 Utility 4D LS 4WD
Chevrolet Blazer 2001 Blazer-V6 Utility 4D LS 2WD
Chevrolet Blazer 2001 Blazer-V6 Utility 2D Xtreme 2WD
Chevrolet Blazer 2002 Blazer-V6 Utility 2D LS 2WD
Chevrolet Blazer 2002 Blazer-V6 Utility 2D LS 4WD
Chevrolet Blazer 2002 Blazer-V6 Utility 4D LS 4WD
Chevrolet Blazer 2002 Blazer-V6 Utility 4D LS 2WD
Chevrolet Blazer 2002 Blazer-V6 Utility 2D Xtreme 2WD
Chevrolet Blazer 2003 Blazer-V6 Utility 2D LS 2WD
Chevrolet Blazer 2003 Blazer-V6 Utility 2D Xtreme 2WD
Chevrolet Blazer 2003 Blazer-V6 Utility 4D LS 2WD
Chevrolet Blazer 2003 Blazer-V6 Utility 2D LS 4WD
Chevrolet Blazer 2003 Blazer-V6 Utility 4D LS 4WD
Chevrolet Blazer 2004 Blazer-V6 Utility 2D LS 2WD
Chevrolet Blazer 2004 Blazer-V6 Utility 2D LS 4WD
Chevrolet Blazer 2004 Blazer-V6 Utility 4D LS 2WD
Chevrolet Blazer 2004 Blazer-V6 Utility 4D LS 4WD
Chevrolet Blazer 2004 Blazer-V6 Utility 2D Xtreme 2WD
Chevrolet Blazer 2005 Blazer-V6 Utility 2D LS 2WD
Chevrolet Blazer 2005 Blazer-V6 Utility 4D LS 2WD
Chevrolet Blazer 2005 Blazer-V6 Utility 2D LS 4WD
Chevrolet Blazer 2005 Blazer-V6 Utility 4D LS 4WD