Specialist Chevrolet Buyer Will Buy Your Tahoe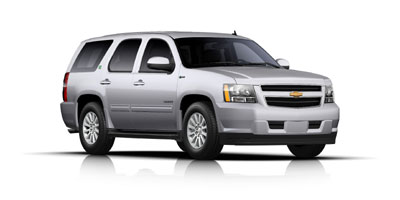 Looking for a fast, reliable and safe way to sell your Chevrolet Tahoe? Look no further than webuyanycar.com, not only do we want to buy your car no matter what its condition, but we will give you a completely fair Chevrolet Tahoe valuation and immediate payment. We have decades of experience in the used car field and as a leading Chevrolet Tahoe buyer, we know exactly the price range to offer for your car that you will be happy with. Our proven service is designed to be as easy and hassle-free as possible for you. The only two things you are required to do are to enter your car's details online and bring it along to one of our convenient local inspection sites. If your vehicle matches your earlier description, we will give you a cashable check that same day ready for your immediate use. To get started, just enter the vehicle's details online now for an instant free quote.
The Chevrolet Tahoe is a full-size SUV that has been in production since 1995. It followed in the footsteps of the Chevrolet Blazer, as that became the new name of the S10 Blazer. Since 2007, it has also been available as a hybrid, introducing electric technology to the range. The Tahoe is at the forefront of technology and in-car assistance, boasting features such as Bluetooth calling, DVD entertainment, GPS tracking and the unique OnStar navigation system. For ease of functionality the truck also offers a power-remote lift gate for easy loading and unloading and retractable steps for entering and exiting the vehicle.
We Currently Have High Demand for Models:
Chevrolet Tahoe 1995 Tahoe-V8 Utility 2D 4WD
Chevrolet Tahoe 1995 Tahoe-V8 Utility 4D LS 2WD
Chevrolet Tahoe 1995 Tahoe-V8 Utility 4D LS 4WD
Chevrolet Tahoe 1996 Tahoe-V8 Utility 2D 4WD
Chevrolet Tahoe 1996 Tahoe-V8 Utility 4D LS 2WD
Chevrolet Tahoe 1996 Tahoe-V8 Utility 4D LS 4WD
Chevrolet Tahoe 1996 Tahoe-V8 Utility 2D 2WD
Chevrolet Tahoe 1997 Tahoe-V8 Utility 2D 4WD
Chevrolet Tahoe 1997 Tahoe-V8 Utility 4D LS 2WD
Chevrolet Tahoe 1997 Tahoe-V8 Utility 4D LS 4WD
Chevrolet Tahoe 1997 Tahoe-V8 Utility 2D 2WD
Chevrolet Tahoe 1998 Tahoe-V8 Utility 2D 2WD
Chevrolet Tahoe 1998 Tahoe-V8 Utility 2D 4WD
Chevrolet Tahoe 1998 Tahoe-V8 Utility 4D LS 4WD
Chevrolet Tahoe 1998 Tahoe-V8 Utility 4D LS 2WD
Chevrolet Tahoe 1999 Tahoe-V8 Utility 2D 2WD
Chevrolet Tahoe 1999 Tahoe-V8 Utility 2D 4WD
Chevrolet Tahoe 1999 Tahoe-V8 Utility 4D LS 4WD
Chevrolet Tahoe 1999 Tahoe-V8 Utility 4D LS 2WD
Chevrolet Tahoe 2000 Tahoe-V8 Utility 4D Z71 4WD
Chevrolet Tahoe 2000 Tahoe-V8 Utility 4D Limited 2WD
Chevrolet Tahoe 2001 Tahoe-V8 Utility 4D 4WD
Chevrolet Tahoe 2001 Tahoe-V8 Utility 4D 2WD
Chevrolet Tahoe 2001 Tahoe-V8 Utility 4D LS 2WD
Chevrolet Tahoe 2001 Tahoe-V8 Utility 4D LS 4WD
Chevrolet Tahoe 1995 Tahoe-V8 Utility 2D LS 4WD
Chevrolet Tahoe 1996 Tahoe-V8 Utility 2D LS 2WD
Chevrolet Tahoe 1996 Tahoe-V8 Utility 2D LS 4WD
Chevrolet Tahoe 1997 Tahoe-V8 Utility 2D LS 2WD
Chevrolet Tahoe 1997 Tahoe-V8 Utility 2D LS 4WD
Chevrolet Tahoe 1998 Tahoe-V8 Utility 2D LS 2WD
Chevrolet Tahoe 1998 Tahoe-V8 Utility 2D LS 4WD
Chevrolet Tahoe 1999 Tahoe-V8 Utility 2D LS 2WD
Chevrolet Tahoe 1999 Tahoe-V8 Utility 2D LS 4WD
Chevrolet Tahoe 2002 Tahoe-V8 Utility 4D LS 2WD
Chevrolet Tahoe 2002 Tahoe-V8 Utility 4D LS 4WD
Chevrolet Tahoe 2003 Tahoe-V8 Utility 4D LS 2WD
Chevrolet Tahoe 2003 Tahoe-V8 Utility 4D LS 4WD
Chevrolet Tahoe 2004 Tahoe-V8 Utility 4D LS 2WD
Chevrolet Tahoe 2004 Tahoe-V8 Utility 4D LS 4WD
Chevrolet Tahoe 2005 Tahoe-V8 Utility 4D LS 2WD
Chevrolet Tahoe 2005 Tahoe-V8 Utility 4D LS 4WD
Chevrolet Tahoe 1995 Tahoe-V8 Utility 4D LT 2WD
Chevrolet Tahoe 1995 Tahoe-V8 Utility 4D LT 4WD
Chevrolet Tahoe 1996 Tahoe-V8 Utility 4D LT 4WD
Chevrolet Tahoe 1997 Tahoe-V8 Utility 4D LT 4WD
Chevrolet Tahoe 1998 Tahoe-V8 Utility 4D LT 4WD
Chevrolet Tahoe 1999 Tahoe-V8 Utility 4D LT 4WD
Chevrolet Tahoe 2001 Tahoe-V8 Utility 4D LT 4WD
Chevrolet Tahoe 2002 Tahoe-V8 Utility 4D LT 4WD
Chevrolet Tahoe 2003 Tahoe-V8 Utility 4D LT 4WD
Chevrolet Tahoe 2004 Tahoe-V8 Utility 4D LT 4WD
Chevrolet Tahoe 2005 Tahoe-V8 Utility 4D LT 4WD
Chevrolet Tahoe 1996 Tahoe-V8 Utility 4D LT 2WD
Chevrolet Tahoe 1997 Tahoe-V8 Utility 4D LT 2WD
Chevrolet Tahoe 1998 Tahoe-V8 Utility 4D LT 2WD
Chevrolet Tahoe 1999 Tahoe-V8 Utility 4D LT 2WD
Chevrolet Tahoe 2001 Tahoe-V8 Utility 4D LT 2WD
Chevrolet Tahoe 2002 Tahoe-V8 Utility 4D LT 2WD
Chevrolet Tahoe 2003 Tahoe-V8 Utility 4D LT 2WD
Chevrolet Tahoe 2004 Tahoe-V8 Utility 4D LT 2WD
Chevrolet Tahoe 2005 Tahoe-V8 Utility 4D LT 2WD
Chevrolet Tahoe 1999 Tahoe-V8 Utility 2D LT 2WD
Chevrolet Tahoe 1999 Tahoe-V8 Utility 2D LT 4WD
Chevrolet Tahoe 1996 Tahoe-V8 Utility 2D LT 2WD
Chevrolet Tahoe 1997 Tahoe-V8 Utility 2D LT 2WD
Chevrolet Tahoe 1998 Tahoe-V8 Utility 2D LT 2WD
Chevrolet Tahoe 1995 Tahoe-V8 Utility 2D LT 4WD
Chevrolet Tahoe 1996 Tahoe-V8 Utility 2D LT 4WD
Chevrolet Tahoe 1997 Tahoe-V8 Utility 2D LT 4WD
Chevrolet Tahoe 1998 Tahoe-V8 Utility 2D LT 4WD
Chevrolet Tahoe 2006 Tahoe-V8 Utility 4D LS 2WD
Chevrolet Tahoe 2006 Tahoe-V8 Utility 4D LS 4WD
Chevrolet Tahoe 2006 Tahoe-V8 Utility 4D LT 2WD
Chevrolet Tahoe 2006 Tahoe-V8 Utility 4D LT 4WD
Chevrolet Tahoe 2007 Tahoe-V8 Utility 4D LS 2WD
Chevrolet Tahoe 2007 Tahoe-V8 Utility 4D LS 4WD
Chevrolet Tahoe 2007 Tahoe-V8 Utility 4D LT 2WD
Chevrolet Tahoe 2007 Tahoe-V8 Utility 4D LT 4WD
Chevrolet Tahoe 2007 Tahoe-V8 Utility 4D LTZ 2WD
Chevrolet Tahoe 2007 Tahoe-V8 Utility 4D LTZ 4WD
Chevrolet Tahoe 2008 Tahoe-V8 Utility 4D LT 2WD
Chevrolet Tahoe 2008 Tahoe-V8 Utility 4D LS 2WD
Chevrolet Tahoe 2008 Tahoe-V8 Utility 4D LS 4WD
Chevrolet Tahoe 2008 Tahoe-V8 Utility 4D LTZ 4WD
Chevrolet Tahoe 2008 Tahoe-V8 Utility 4D LTZ 2WD
Chevrolet Tahoe 2006 Tahoe-V8 Utility 4D Z71 2WD
Chevrolet Tahoe 2006 Tahoe-V8 Utility 4D Z71 4WD
Chevrolet Tahoe 2005 Tahoe-V8 Utility 4D Z71 2WD
Chevrolet Tahoe 2005 Tahoe-V8 Utility 4D Z71 4WD
Chevrolet Tahoe 2004 Tahoe-V8 Utility 4D Z71 4WD
Chevrolet Tahoe 2008 Tahoe-V8 Utility 4D LT 4WD
Chevrolet Tahoe 2008 Tahoe-V8 Utility 4D 4WD Hybrid
Chevrolet Tahoe 2008 Tahoe-V8 Utility 4D 2WD Hybrid
Chevrolet Tahoe 2009 Tahoe-V8 Utility 4D LS 2WD
Chevrolet Tahoe 2009 Tahoe-V8 Utility 4D LS 4WD
Chevrolet Tahoe 2009 Tahoe-V8 Utility 4D LTZ 2WD
Chevrolet Tahoe 2009 Tahoe-V8 Utility 4D LTZ 4WD
Chevrolet Tahoe 2009 Tahoe-V8 Utility 4D 2WD Hybrid
Chevrolet Tahoe 2009 Tahoe-V8 Utility 4D 4WD Hybrid
Chevrolet Tahoe 2009 Tahoe-V8 Utility 4D LT 2WD
Chevrolet Tahoe 2009 Tahoe-V8 Utility 4D LT 4WD
Chevrolet Tahoe 2010 Tahoe-V8 Utility 4D LTZ 4WD
Chevrolet Tahoe 2010 Tahoe-V8 Utility 4D 2WD Hybrid
Chevrolet Tahoe 2010 Tahoe-V8 Utility 4D 4WD Hybrid
Chevrolet Tahoe 2010 Tahoe-V8 Utility 4D LT 4WD
Chevrolet Tahoe 2010 Tahoe-V8 Utility 4D LTZ 2WD
Chevrolet Tahoe 2010 Tahoe-V8 Utility 4D LS 4WD
Chevrolet Tahoe 2010 Tahoe-V8 Utility 4D LT 2WD
Chevrolet Tahoe 2010 Tahoe-V8 Utility 4D LS 2WD
Chevrolet Tahoe 2011 Tahoe-V8 Utility 4D LS 4WD
Chevrolet Tahoe 2011 Tahoe-V8 Utility 4D LTZ 4WD
Chevrolet Tahoe 2011 Tahoe-V8 Utility 4D LS 2WD
Chevrolet Tahoe 2011 Tahoe-V8 Utility 4D LT 2WD
Chevrolet Tahoe 2011 Tahoe-V8 Utility 4D LTZ 2WD
Chevrolet Tahoe 2011 Tahoe-V8 Utility 4D 2WD Hybrid
Chevrolet Tahoe 2011 Tahoe-V8 Utility 4D 4WD Hybrid
Chevrolet Tahoe 2011 Tahoe-V8 Utility 4D LT 4WD
Chevrolet Tahoe 2012 Tahoe-V8 Utility 4D LS 4WD
Chevrolet Tahoe 2012 Tahoe-V8 Utility 4D LTZ 4WD
Chevrolet Tahoe 2012 Tahoe-V8 Utility 4D LS 2WD
Chevrolet Tahoe 2012 Tahoe-V8 Utility 4D LT 2WD
Chevrolet Tahoe 2012 Tahoe-V8 Utility 4D LTZ 2WD
Chevrolet Tahoe 2012 Tahoe-V8 Utility 4D 2WD Hybrid
Chevrolet Tahoe 2012 Tahoe-V8 Utility 4D 4WD Hybrid
Chevrolet Tahoe 2012 Tahoe-V8 Utility 4D LT 4WD
Chevrolet Tahoe 2013 Tahoe Utility 4D LS 2WD V8
Chevrolet Tahoe 2013 Tahoe Utility 4D LS 4WD V8
Chevrolet Tahoe 2013 Tahoe Utility 4D LTZ 4WD V8
Chevrolet Tahoe 2013 Tahoe Utility 4D LT 2WD V8
Chevrolet Tahoe 2013 Tahoe Utility 4D LTZ 2WD V8
Chevrolet Tahoe 2013 Tahoe Utility 4D 2WD Hybrid V8
Chevrolet Tahoe 2013 Tahoe Utility 4D 4WD Hybrid V8
Chevrolet Tahoe 2011 Tahoe-V8 Utility 4D Police 2WD
Chevrolet Tahoe 2012 Tahoe-V8 Utility 4D Police 2WD
Chevrolet Tahoe 2013 Tahoe Utility 4D Police 2WD V8
Chevrolet Tahoe 2013 Tahoe Utility 4D LT 4WD V8
Chevrolet Tahoe 2014 Tahoe Utility 4D LS 4WD V8
Chevrolet Tahoe 2014 Tahoe Utility 4D LTZ 4WD V8
Chevrolet Tahoe 2014 Tahoe Utility 4D LS 2WD V8
Chevrolet Tahoe 2014 Tahoe Utility 4D LT 2WD V8
Chevrolet Tahoe 2014 Tahoe Utility 4D LTZ 2WD V8
Chevrolet Tahoe 2014 Tahoe Utility 4D Police 2WD V8
Chevrolet Tahoe 2014 Tahoe Utility 4D LT 4WD V8
Chevrolet Tahoe 2015 Tahoe Utility 4D LS 4WD V8
Chevrolet Tahoe 2015 Tahoe Utility 4D LT 4WD V8
Chevrolet Tahoe 2015 Tahoe Utility 4D LTZ 4WD V8
Chevrolet Tahoe 2015 Tahoe Utility 4D LS 2WD V8
Chevrolet Tahoe 2015 Tahoe Utility 4D LT 2WD V8
Chevrolet Tahoe 2015 Tahoe Utility 4D LTZ 2WD V8
Chevrolet Tahoe 2015 Tahoe Utility 4D Police 2WD V8
Chevrolet Tahoe 2015 Tahoe Utility 4D Fleet 4WD V8
Chevrolet Tahoe 2015 Tahoe Utility 4D Fleet 2WD V8
Chevrolet Tahoe 2015 Tahoe Utility 4D Police 4WD V8
Chevrolet Tahoe 2011 Tahoe-V8 Utility 4D Fleet 2WD
Chevrolet Tahoe 2011 Tahoe-V8 Utility 4D Fleet 4WD
Chevrolet Tahoe 2012 Tahoe-V8 Utility 4D Fleet 4WD
Chevrolet Tahoe 2012 Tahoe-V8 Utility 4D Fleet 2WD
Chevrolet Tahoe 2013 Tahoe Utility 4D Fleet 4WD V8
Chevrolet Tahoe 2013 Tahoe Utility 4D Fleet 2WD V8
Chevrolet Tahoe 2014 Tahoe Utility 4D Fleet 4WD V8
Chevrolet Tahoe 2014 Tahoe Utility 4D Fleet 2WD V8
Chevrolet Tahoe 2011 Tahoe-V8 Utility 4D Police 4WD
Chevrolet Tahoe 2012 Tahoe-V8 Utility 4D Police 4WD
Chevrolet Tahoe 2013 Tahoe Utility 4D Police 4WD V8
Chevrolet Tahoe 2014 Tahoe Utility 4D Police 4WD V8