Specialist Chrysler Buyer Will Buy Your PT Cruiser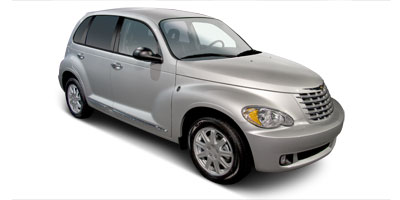 The best way to get a quick Chrysler PT Cruiser valuation is at webuyanycar.com! With no deliberation as to its condition, age, or mileage, we will buy your car at a fair price through a transparent transaction. We can offer you a price on your vehicle in just a few seconds through our website, and if you like what you see, visit us at one of our convenient locations and find out why our clients choose us as their number one car buyer. We want you to sell your Chrysler PT Cruiser to us because we know you will be pleased with our transparent system and honest transactions that are simply unavailable at an average car dealer. We understand that automobile owners deserve to receive full compensation when selling their vehicles, so make your appointment soon to visit us. All your car needs to do is pass a simple sight appraisal and you'll be on your way to receiving cash for your car.
The Chrysler PT Cruiser began production in 1999 as a retro hatchback. The convertible body type was later added in 2005. After its inception, the Chrysler PT cruiser was one of Chrysler's more popular models and has a lot of cargo space for such a small compact car. Probably its best attribute is the large amount of room it allows for passengers. The engine is a modest 2.4-liter capable of 150 horsepower through a four-speed automatic or five-speed manual transmission. The handling and suspension are superior to those of most crossovers. Get a great valuation for your Chrysler PT Cruiser from We Buy Any Car.
We Currently Have High Demand for Models:
Chrysler PT Cruiser 2001 PT Cruiser-4 Cyl. Wagon 4D
Chrysler PT Cruiser 2001 PT Cruiser-4 Cyl. Wagon 4D Limited
Chrysler PT Cruiser 2001 PT Cruiser-4 Cyl. Wagon 4D Touring
Chrysler PT Cruiser 2002 PT Cruiser-4 Cyl. Wagon 4D
Chrysler PT Cruiser 2002 PT Cruiser-4 Cyl. Wagon 4D Limited
Chrysler PT Cruiser 2002 PT Cruiser-4 Cyl. Wagon 4D Touring
Chrysler PT Cruiser 2003 PT Cruiser-4 Cyl. Wagon 4D
Chrysler PT Cruiser 2003 PT Cruiser-4 Cyl. Wagon 4D GT Turbo
Chrysler PT Cruiser 2003 PT Cruiser-4 Cyl. Wagon 4D Limited
Chrysler PT Cruiser 2003 PT Cruiser-4 Cyl. Wagon 4D Touring
Chrysler PT Cruiser 2004 PT Cruiser-4 Cyl. Wagon 4D
Chrysler PT Cruiser 2004 PT Cruiser-4 Cyl. Wagon 4D GT Turbo
Chrysler PT Cruiser 2004 PT Cruiser-4 Cyl. Wagon 4D Limited
Chrysler PT Cruiser 2004 PT Cruiser-4 Cyl. Wagon 4D Limited Platinum Turbo
Chrysler PT Cruiser 2004 PT Cruiser-4 Cyl. Wagon 4D Limited Turbo
Chrysler PT Cruiser 2004 PT Cruiser-4 Cyl. Wagon 4D Touring
Chrysler PT Cruiser 2004 PT Cruiser-4 Cyl. Wagon 4D Touring Turbo
Chrysler PT Cruiser 2005 PT Cruiser-4 Cyl. Convertible 2D
Chrysler PT Cruiser 2005 PT Cruiser-4 Cyl. Convertible 2D GT Turbo
Chrysler PT Cruiser 2005 PT Cruiser-4 Cyl. Convertible 2D Touring
Chrysler PT Cruiser 2005 PT Cruiser-4 Cyl. Convertible 2D Touring Turbo
Chrysler PT Cruiser 2005 PT Cruiser-4 Cyl. Wagon 4D
Chrysler PT Cruiser 2005 PT Cruiser-4 Cyl. Wagon 4D GT Turbo
Chrysler PT Cruiser 2005 PT Cruiser-4 Cyl. Wagon 4D Limited
Chrysler PT Cruiser 2005 PT Cruiser-4 Cyl. Wagon 4D Limited Turbo
Chrysler PT Cruiser 2005 PT Cruiser-4 Cyl. Wagon 4D Touring
Chrysler PT Cruiser 2006 PT Cruiser-4 Cyl. Convertible 2D
Chrysler PT Cruiser 2006 PT Cruiser-4 Cyl. Convertible 2D GT Turbo
Chrysler PT Cruiser 2006 PT Cruiser-4 Cyl. Convertible 2D Touring
Chrysler PT Cruiser 2006 PT Cruiser-4 Cyl. Convertible 2D Touring Turbo
Chrysler PT Cruiser 2006 PT Cruiser-4 Cyl. Wagon 4D
Chrysler PT Cruiser 2006 PT Cruiser-4 Cyl. Wagon 4D GT Turbo
Chrysler PT Cruiser 2006 PT Cruiser-4 Cyl. Wagon 4D Limited
Chrysler PT Cruiser 2006 PT Cruiser-4 Cyl. Wagon 4D Limited Turbo
Chrysler PT Cruiser 2006 PT Cruiser-4 Cyl. Wagon 4D Touring
Chrysler PT Cruiser 2007 PT Cruiser-4 Cyl. Convertible 2D
Chrysler PT Cruiser 2007 PT Cruiser-4 Cyl. Convertible 2D GT Turbo
Chrysler PT Cruiser 2007 PT Cruiser-4 Cyl. Convertible 2D Touring Turbo
Chrysler PT Cruiser 2007 PT Cruiser-4 Cyl. Wagon 4D
Chrysler PT Cruiser 2007 PT Cruiser-4 Cyl. Wagon 4D GT Turbo
Chrysler PT Cruiser 2007 PT Cruiser-4 Cyl. Wagon 4D Limited
Chrysler PT Cruiser 2007 PT Cruiser-4 Cyl. Wagon 4D Limited Turbo
Chrysler PT Cruiser 2007 PT Cruiser-4 Cyl. Wagon 4D Touring
Chrysler PT Cruiser 2008 PT Cruiser-4 Cyl. Convertible 2D Touring
Chrysler PT Cruiser 2008 PT Cruiser-4 Cyl. Convertible 2D Touring Turbo
Chrysler PT Cruiser 2008 PT Cruiser-4 Cyl. Wagon 4D
Chrysler PT Cruiser 2008 PT Cruiser-4 Cyl. Wagon 4D Limited Turbo
Chrysler PT Cruiser 2008 PT Cruiser-4 Cyl. Wagon 4D Touring
Chrysler PT Cruiser 2008 PT Cruiser-4 Cyl. Wagon 4D Touring Turbo
Chrysler PT Cruiser 2009 PT Cruiser-4 Cyl. Wagon 4D Limited Turbo
Chrysler PT Cruiser 2009 PT Cruiser-4 Cyl. Wagon 4D LX
Chrysler PT Cruiser 2009 PT Cruiser-4 Cyl. Wagon 4D Touring
Chrysler PT Cruiser 2009 PT Cruiser-4 Cyl. Wagon 4D Touring Turbo
Chrysler PT Cruiser 2010 PT Cruiser-4 Cyl. Wagon 4D Classic