Specialist Dodge Buyer Will Buy Your Durango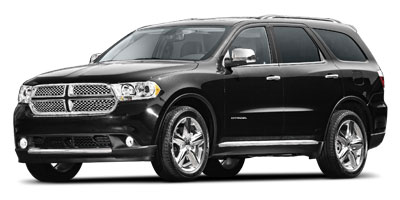 When you decide that the time has come to sell your Dodge Durango, contact us. We will pay a fair price for your Dodge Durango, and we will buy your truck in any condition. We understand the stress and hassle that is associated with selling any used car, and when you decide that you need to find a Dodge Durango buyer, we guarantee to make the transaction as pain-free as possible. Simply enter the details about your Dodge Durango into our easy to use quote generator to get an instant valuation, and then drop by any of our convenient locations to collect a check. If our quick inspection matches the information used to generate the online quote, you will be in and out in under than 30 minutes, and leave with a check in your hand.
The Durango is an SUV from Chrysler's Dodge division. It was first introduced as a mid-size SUV in 1998 to replace the Ram Charger, which was discontinued in North America in 1993. In 2004, the Dodge Durango was redesigned into a full-sized SUV. Until the end of 2008, the Dodge Durango was manufactured in Newark, Delaware. It was taken off the market and redesigned, appearing again in the later part of 2010. This new version was assembled in Detroit, Michigan, on the same platform as the 2011 Jeep Grand Cherokee. The Dodge Durango is a sturdy truck-like SUV that can hold as many as eight passengers and can tow about 9,000 lbs. This SUV comes with a V6 or V8 engine, and is known as a tough, reliable vehicle.
We Currently Have High Demand for Models:
Dodge Durango 1998 Durango-V8 Utility 4D SLT 4WD
Dodge Durango 1999 Durango-V8 Utility 4D SLT 2WD
Dodge Durango 1999 Durango-V8 Utility 4D SLT 4WD
Dodge Durango 2000 Durango-V8 Utility 4D R/T Sport 4WD
Dodge Durango 2000 Durango-V8 Utility 4D SLT 2WD
Dodge Durango 2000 Durango-V8 Utility 4D SLT 4WD
Dodge Durango 2000 Durango-V8 Utility 4D SLT Plus 2WD
Dodge Durango 2000 Durango-V8 Utility 4D SLT Plus 4WD
Dodge Durango 2000 Durango-V8 Utility 4D Sport 2WD
Dodge Durango 2000 Durango-V8 Utility 4D Sport 4WD
Dodge Durango 2001 Durango-V8 Utility 4D R/T Sport 4WD
Dodge Durango 2001 Durango-V8 Utility 4D SLT 2WD
Dodge Durango 2001 Durango-V8 Utility 4D SLT 4WD
Dodge Durango 2001 Durango-V8 Utility 4D SLT Plus 2WD
Dodge Durango 2001 Durango-V8 Utility 4D SLT Plus 4WD
Dodge Durango 2001 Durango-V8 Utility 4D Sport 2WD
Dodge Durango 2001 Durango-V8 Utility 4D Sport 4WD
Dodge Durango 2002 Durango-V8 Utility 4D R/T Sport 4WD
Dodge Durango 2002 Durango-V8 Utility 4D SLT 2WD
Dodge Durango 2002 Durango-V8 Utility 4D SLT 4WD
Dodge Durango 2002 Durango-V8 Utility 4D SLT Plus 2WD
Dodge Durango 2002 Durango-V8 Utility 4D SLT Plus 4WD
Dodge Durango 2002 Durango-V8 Utility 4D Sport 2WD
Dodge Durango 2002 Durango-V8 Utility 4D Sport 4WD
Dodge Durango 2002 Durango-V8 Utility 4D SXT 2WD
Dodge Durango 2002 Durango-V8 Utility 4D SXT 4WD
Dodge Durango 2003 Durango-V8 Utility 4D R/T Sport 4WD
Dodge Durango 2003 Durango-V8 Utility 4D SLT 2WD
Dodge Durango 2003 Durango-V8 Utility 4D SLT 4WD
Dodge Durango 2003 Durango-V8 Utility 4D SLT Plus 2WD
Dodge Durango 2003 Durango-V8 Utility 4D SLT Plus 4WD
Dodge Durango 2003 Durango-V8 Utility 4D Sport 2WD
Dodge Durango 2003 Durango-V8 Utility 4D Sport 4WD
Dodge Durango 2003 Durango-V8 Utility 4D SXT 2WD
Dodge Durango 2003 Durango-V8 Utility 4D SXT 4WD
Dodge Durango 2004 Durango-V8 Utility 4D Limited 2WD
Dodge Durango 2004 Durango-V8 Utility 4D Limited 4WD
Dodge Durango 2004 Durango-V8 Utility 4D Limited HEMI 2WD
Dodge Durango 2004 Durango-V8 Utility 4D Limited HEMI 4WD
Dodge Durango 2004 Durango-V8 Utility 4D SLT 2WD
Dodge Durango 2004 Durango-V8 Utility 4D SLT 4WD
Dodge Durango 2004 Durango-V8 Utility 4D SLT HEMI 2WD
Dodge Durango 2004 Durango-V8 Utility 4D SLT HEMI 4WD
Dodge Durango 2004 Durango-V8 Utility 4D ST 2WD
Dodge Durango 2004 Durango-V8 Utility 4D ST 4WD
Dodge Durango 2005 Durango-V8 Utility 4D Adventurer 2WD
Dodge Durango 2005 Durango-V8 Utility 4D Adventurer 4WD
Dodge Durango 2005 Durango-V8 Utility 4D Adventurer HEMI 2WD
Dodge Durango 2005 Durango-V8 Utility 4D Adventurer HEMI 4WD
Dodge Durango 2005 Durango-V8 Utility 4D Limited 2WD
Dodge Durango 2005 Durango-V8 Utility 4D Limited 4WD
Dodge Durango 2005 Durango-V8 Utility 4D Limited HEMI 2WD
Dodge Durango 2005 Durango-V8 Utility 4D Limited HEMI 4WD
Dodge Durango 2005 Durango-V8 Utility 4D SLT 2WD
Dodge Durango 2005 Durango-V8 Utility 4D SLT 4WD
Dodge Durango 2005 Durango-V8 Utility 4D SLT HEMI 2WD
Dodge Durango 2005 Durango-V8 Utility 4D SLT HEMI 4WD
Dodge Durango 2005 Durango-V8 Utility 4D ST 2WD
Dodge Durango 2005 Durango-V8 Utility 4D ST 4WD
Dodge Durango 2005 Durango-V8 Utility 4D SXT 2WD
Dodge Durango 2005 Durango-V8 Utility 4D SXT 4WD
Dodge Durango 2006 Durango-V8 Utility 4D Adventurer 2WD
Dodge Durango 2006 Durango-V8 Utility 4D Adventurer 4WD
Dodge Durango 2006 Durango-V8 Utility 4D Adventurer HEMI 2WD
Dodge Durango 2006 Durango-V8 Utility 4D Adventurer HEMI 4WD
Dodge Durango 2006 Durango-V8 Utility 4D Limited 2WD
Dodge Durango 2006 Durango-V8 Utility 4D Limited 4WD
Dodge Durango 2006 Durango-V8 Utility 4D Limited HEMI 2WD
Dodge Durango 2006 Durango-V8 Utility 4D Limited HEMI 4WD
Dodge Durango 2006 Durango-V8 Utility 4D SLT 2WD
Dodge Durango 2006 Durango-V8 Utility 4D SLT 4WD
Dodge Durango 2006 Durango-V8 Utility 4D SLT HEMI 2WD
Dodge Durango 2006 Durango-V8 Utility 4D SLT HEMI 4WD
Dodge Durango 2006 Durango-V8 Utility 4D SXT 2WD
Dodge Durango 2006 Durango-V8 Utility 4D SXT 4WD
Dodge Durango 2007 Durango-V8 Utility 4D Adventurer 2WD
Dodge Durango 2007 Durango-V8 Utility 4D Adventurer 4WD
Dodge Durango 2007 Durango-V8 Utility 4D Adventurer HEMI 2WD
Dodge Durango 2007 Durango-V8 Utility 4D Adventurer HEMI 4WD
Dodge Durango 2007 Durango-V8 Utility 4D Limited 2WD
Dodge Durango 2007 Durango-V8 Utility 4D Limited 4WD
Dodge Durango 2007 Durango-V8 Utility 4D Limited HEMI 2WD
Dodge Durango 2007 Durango-V8 Utility 4D Limited HEMI 4WD
Dodge Durango 2007 Durango-V8 Utility 4D SLT 2WD
Dodge Durango 2007 Durango-V8 Utility 4D SLT 4WD
Dodge Durango 2007 Durango-V8 Utility 4D SLT HEMI 2WD
Dodge Durango 2007 Durango-V8 Utility 4D SLT HEMI 4WD
Dodge Durango 2007 Durango-V8 Utility 4D SXT 2WD
Dodge Durango 2007 Durango-V8 Utility 4D SXT 4WD
Dodge Durango 2008 Durango-V8 Utility 4D Adventurer 2WD
Dodge Durango 2008 Durango-V8 Utility 4D Adventurer 4WD
Dodge Durango 2008 Durango-V8 Utility 4D Adventurer HEMI 2WD
Dodge Durango 2008 Durango-V8 Utility 4D Adventurer HEMI 4WD
Dodge Durango 2008 Durango-V8 Utility 4D Limited 2WD
Dodge Durango 2008 Durango-V8 Utility 4D Limited 4WD
Dodge Durango 2008 Durango-V8 Utility 4D Limited HEMI 2WD
Dodge Durango 2008 Durango-V8 Utility 4D Limited HEMI 4WD
Dodge Durango 2008 Durango-V8 Utility 4D SLT 2WD
Dodge Durango 2008 Durango-V8 Utility 4D SLT 4WD
Dodge Durango 2008 Durango-V8 Utility 4D SLT HEMI 2WD
Dodge Durango 2008 Durango-V8 Utility 4D SLT HEMI 4WD
Dodge Durango 2008 Durango-V8 Utility 4D SXT 2WD
Dodge Durango 2008 Durango-V8 Utility 4D SXT 4WD
Dodge Durango 2009 Durango-V8 Utility 4D 4WD Hybrid
Dodge Durango 2009 Durango-V8 Utility 4D Limited 2WD
Dodge Durango 2009 Durango-V8 Utility 4D Limited 4WD
Dodge Durango 2009 Durango-V8 Utility 4D SE 2WD
Dodge Durango 2009 Durango-V8 Utility 4D SE 4WD
Dodge Durango 2009 Durango-V8 Utility 4D SLT 2WD
Dodge Durango 2009 Durango-V8 Utility 4D SLT 4WD
Dodge Durango 2011 Durango-V6 Utility 4D Citadel 2WD
Dodge Durango 2011 Durango-V6 Utility 4D Citadel AWD
Dodge Durango 2011 Durango-V6 Utility 4D Crew 2WD
Dodge Durango 2011 Durango-V6 Utility 4D Crew AWD
Dodge Durango 2011 Durango-V6 Utility 4D Express 2WD
Dodge Durango 2011 Durango-V6 Utility 4D Express AWD
Dodge Durango 2011 Durango-V6 Utility 4D Heat 2WD
Dodge Durango 2011 Durango-V6 Utility 4D Heat AWD
Dodge Durango 2011 Durango-V8 Utility 4D R/T 2WD
Dodge Durango 2011 Durango-V8 Utility 4D R/T AWD
Dodge Durango 2012 Durango-V6 Utility 4D Citadel 2WD
Dodge Durango 2012 Durango-V6 Utility 4D Citadel AWD
Dodge Durango 2012 Durango-V6 Utility 4D Crew 2WD
Dodge Durango 2012 Durango-V6 Utility 4D Crew AWD
Dodge Durango 2012 Durango-V6 Utility 4D Heat 2WD
Dodge Durango 2012 Durango-V6 Utility 4D Heat AWD
Dodge Durango 2012 Durango-V6 Utility 4D Police 2WD
Dodge Durango 2012 Durango-V6 Utility 4D Police 4WD
Dodge Durango 2012 Durango-V6 Utility 4D SXT 2WD
Dodge Durango 2012 Durango-V6 Utility 4D SXT AWD
Dodge Durango 2012 Durango-V8 Utility 4D R/T 2WD
Dodge Durango 2012 Durango-V8 Utility 4D R/T AWD
Dodge Durango 2013 Durango Utility 4D Citadel 2WD V6
Dodge Durango 2013 Durango Utility 4D Citadel AWD V6
Dodge Durango 2013 Durango Utility 4D Crew 2WD V6
Dodge Durango 2013 Durango Utility 4D Crew AWD V6
Dodge Durango 2013 Durango Utility 4D Police 2WD V6
Dodge Durango 2013 Durango Utility 4D Police 4WD V6
Dodge Durango 2013 Durango Utility 4D R/T 2WD V8
Dodge Durango 2013 Durango Utility 4D R/T AWD V8
Dodge Durango 2013 Durango Utility 4D SXT 2WD V6
Dodge Durango 2013 Durango Utility 4D SXT AWD V6
Dodge Durango 2014 Durango Utility 4D Citadel 2WD V6
Dodge Durango 2014 Durango Utility 4D Citadel AWD V6
Dodge Durango 2014 Durango Utility 4D Limited 2WD V6
Dodge Durango 2014 Durango Utility 4D Limited AWD V6
Dodge Durango 2014 Durango Utility 4D Police 2WD V6
Dodge Durango 2014 Durango Utility 4D Police 4WD V6
Dodge Durango 2014 Durango Utility 4D R/T 2WD V8
Dodge Durango 2014 Durango Utility 4D R/T AWD V8
Dodge Durango 2014 Durango Utility 4D SXT 2WD V6
Dodge Durango 2014 Durango Utility 4D SXT AWD V6
Dodge Durango 2015 Durango Utility 4D Citadel 2WD V6
Dodge Durango 2015 Durango Utility 4D Citadel AWD V6
Dodge Durango 2015 Durango Utility 4D Limited 2WD V6
Dodge Durango 2015 Durango Utility 4D Limited AWD V6
Dodge Durango 2015 Durango Utility 4D Police 2WD V6
Dodge Durango 2015 Durango Utility 4D Police 4WD V6
Dodge Durango 2015 Durango Utility 4D R/T 2WD V8
Dodge Durango 2015 Durango Utility 4D R/T AWD V8
Dodge Durango 2015 Durango Utility 4D SXT 2WD V6
Dodge Durango 2015 Durango Utility 4D SXT AWD V6