Specialist Ford Buyer Will Buy Your Contour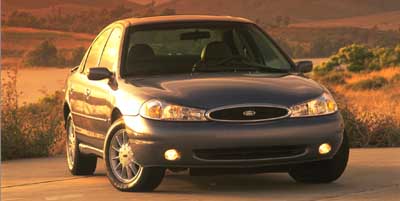 We buy cars, and we will buy your Ford Contour whenever you are ready to sell it. Maybe the car is old and falling apart, or has a lot of miles on it. Whatever your reason for selling, we will buy your Ford Contour, regardless of its age, mileage or condition, whether it runs or not. You can find out your Ford Contour's valuation price online instantly, and enjoy our top notch customer service through the rest of the process as well. We are specialists in the field of buying used cars, and will guarantee you a hassle free and fair deal when you decide to sell your Ford Contour.
The Ford Contour is a compact four door sedan that was marketed from 1995 to 2000. It replaced the Ford Tempo. Ford took the job of developing the Ford Contour seriously, investing billions of dollars into the project. The car was slightly larger than its predecessor, the Ford Tempo, but was still quite small by American standards. One of the major features of the car was its versatility. Three trim options were available; a sport SE trim, a luxurious LX trim or the basic GL trim. Under the hood the car packed a Zetec inline four cylinder engine, except on SE models which had a Duratec V6 engine. The vehicle came with a five speed manual transmission as standard, though there was the option of upgrading to a four speed automatic transmission.
We Currently Have High Demand for Models:
Ford Contour 1995 Contour-4 Cyl. Sedan 4D LX
Ford Contour 1995 Contour-4 Cyl. Sedan 4D GL
Ford Contour 1995 Contour-V6 Sedan 4D LX
Ford Contour 1995 Contour-V6 Sedan 4D SE
Ford Contour 1995 Contour-V6 Sedan 4D GL
Ford Contour 1996 Contour-4 Cyl. Sedan 4D LX
Ford Contour 1996 Contour-4 Cyl. Sedan 4D GL
Ford Contour 1996 Contour-V6 Sedan 4D LX
Ford Contour 1996 Contour-V6 Sedan 4D SE
Ford Contour 1996 Contour-V6 Sedan 4D GL
Ford Contour 1997 Contour-4 Cyl. Sedan 4D
Ford Contour 1997 Contour-4 Cyl. Sedan 4D LX
Ford Contour 1997 Contour-4 Cyl. Sedan 4D GL
Ford Contour 1997 Contour-V6 Sedan 4D LX
Ford Contour 1997 Contour-V6 Sedan 4D SE
Ford Contour 1997 Contour-V6 Sedan 4D GL
Ford Contour 1998 Contour-4 Cyl. Sedan 4D LX
Ford Contour 1998 Contour-V6 Sedan 4D SE
Ford Contour 1998 Contour-4 Cyl. Sedan 4D SE
Ford Contour 1998 Contour-V6 Sedan 4D LX
Ford Contour 1999 Contour-4 Cyl. Sedan 4D LX
Ford Contour 1999 Contour-V6 Sedan 4D SE
Ford Contour 1999 Contour-4 Cyl. Sedan 4D SE
Ford Contour 1998 Contour-4 Cyl. Sedan 4D
Ford Contour 1998 Contour-4 Cyl. Sedan 4D GL
Ford Contour 1998 Contour-V6 Sedan 4D GL
Ford Contour 1998 Contour-V6 Sedan 4D SVT
Ford Contour 1999 Contour-V6 Sedan 4D SVT
Ford Contour 2000 Contour-V6 Sedan 4D Sport
Ford Contour 2000 Contour-4 Cyl. Sedan 4D SE
Ford Contour 2000 Contour-V6 Sedan 4D SVT
Ford Contour 2000 Contour-V6 Sedan 4D SE
Ford Contour 1999 Contour-V6 Sedan 4D LX