Specialist Ford Buyer Will Buy Your Explorer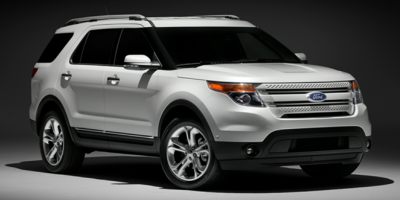 Sell your Ford Explorer safely with We Buy Any Car. We will guarantee to buy your Ford Explorer regardless of its condition, so even if you think that it is only suitable for the junk yard, we will make you an offer. Use our simple, reliable and quick online valuation service and you could find out how much we would be willing to pay for your Ford Explorer, and with a team of dedicated Ford Explorer experts on hand you can rest assured that not only will you receive the best possible price for your Ford Explorer but you will also experience top-level customer service which is friendly, reliable, and informative.
The Ford Explorer has widely been held as the reason Americans love SUV's (Sports Utility Vehicles). This full-sized crossover SUV was first released in 1990 as a mid-sized SUV and continues to be manufactured today as testament to its continued reliability and popularity. Originally produced to replace the Ford Bronco II, the Ford Explorer was one of the main reasons SUV's moved from being a specialist vehicle to one of the most popular on the roads. Ideally placed between the larger Expedition and the smaller Escape, the Ford Explorer is synonymous with SUV's throughout its lifetime. Available as a 2- or 4- door, with an engine size ranging from 4.0 liters to 5.0 liters depending on the model and release date, the Ford Explorer remains the top choice for those seeking to buy an SUV.
We Currently Have High Demand for Models:
Ford Explorer 1991 Explorer Utility 2D 2WD
Ford Explorer 1991 Explorer Utility 2D 4WD
Ford Explorer 1991 Explorer Utility 4D 2WD
Ford Explorer 1991 Explorer Utility 4D 4WD
Ford Explorer 1992 Explorer Utility 2D 2WD
Ford Explorer 1992 Explorer Utility 2D 4WD
Ford Explorer 1992 Explorer Utility 4D 2WD
Ford Explorer 1992 Explorer Utility 4D 4WD
Ford Explorer 1993 Explorer Utility 2D 2WD
Ford Explorer 1993 Explorer Utility 2D 4WD
Ford Explorer 1993 Explorer Utility 4D 2WD
Ford Explorer 1993 Explorer Utility 4D 4WD
Ford Explorer 1994 Explorer Utility 2D 2WD
Ford Explorer 1994 Explorer Utility 2D 4WD
Ford Explorer 1994 Explorer Utility 4D 2WD
Ford Explorer 1994 Explorer Utility 4D 4WD
Ford Explorer 1995 Explorer-V6 Utility 2D 2WD
Ford Explorer 1995 Explorer-V6 Utility 2D 4WD
Ford Explorer 1995 Explorer-V6 Utility 4D 2WD
Ford Explorer 1995 Explorer-V6 Utility 4D 4WD
Ford Explorer 1996 Explorer-V6 Utility 2D 2WD
Ford Explorer 1996 Explorer-V6 Utility 2D 4WD
Ford Explorer 1996 Explorer-V6 Utility 4D 2WD
Ford Explorer 1996 Explorer-V6 Utility 4D 4WD/AWD
Ford Explorer 1997 Explorer-V6 Utility 2D 2WD
Ford Explorer 1997 Explorer-V6 Utility 2D 4WD
Ford Explorer 1997 Explorer-V6 Utility 4D 2WD
Ford Explorer 1997 Explorer-V6 Utility 4D 4WD/AWD
Ford Explorer 1998 Explorer-V6 Utility 2D Sport 2WD
Ford Explorer 1998 Explorer-V6 Utility 2D Sport 4WD
Ford Explorer 1998 Explorer-V6 Utility 4D 2WD
Ford Explorer 1998 Explorer-V6 Utility 4D 4WD/AWD
Ford Explorer 1999 Explorer-V6 Utility 2D Sport 2WD
Ford Explorer 1999 Explorer-V6 Utility 2D Sport 4WD
Ford Explorer 1999 Explorer-V6 Utility 4D 2WD
Ford Explorer 1999 Explorer-V6 Utility 4D 4WD/AWD
Ford Explorer 2000 Explorer-V6 Utility 2D Sport 2WD
Ford Explorer 2000 Explorer-V6 Utility 2D Sport 4WD
Ford Explorer 2000 Explorer-V6 Utility 4D Eddie Bauer 2WD
Ford Explorer 2000 Explorer-V6 Utility 4D Eddie Bauer 4WD/AWD
Ford Explorer 2000 Explorer-V6 Utility 4D Limited 2WD
Ford Explorer 2000 Explorer-V6 Utility 4D Limited 4WD/AWD
Ford Explorer 2000 Explorer-V6 Utility 4D XL 2WD
Ford Explorer 2000 Explorer-V6 Utility 4D XL 4WD
Ford Explorer 2000 Explorer-V6 Utility 4D XLS 2WD
Ford Explorer 2000 Explorer-V6 Utility 4D XLS 4WD
Ford Explorer 2000 Explorer-V6 Utility 4D XLT 2WD
Ford Explorer 2000 Explorer-V6 Utility 4D XLT 4WD/AWD
Ford Explorer 2001 Explorer-V6 Utility 2D Sport 2WD
Ford Explorer 2001 Explorer-V6 Utility 2D Sport 4WD
Ford Explorer 2001 Explorer-V6 Utility 4D Eddie Bauer 2WD
Ford Explorer 2001 Explorer-V6 Utility 4D Eddie Bauer 4WD/AWD
Ford Explorer 2001 Explorer-V6 Utility 4D Limited 2WD
Ford Explorer 2001 Explorer-V6 Utility 4D Limited 4WD/AWD
Ford Explorer 2001 Explorer-V6 Utility 4D XLS 2WD
Ford Explorer 2001 Explorer-V6 Utility 4D XLS 4WD
Ford Explorer 2001 Explorer-V6 Utility 4D XLT 2WD
Ford Explorer 2001 Explorer-V6 Utility 4D XLT 4WD/AWD
Ford Explorer 2002 Explorer-V6 Utility 2D Sport 2WD
Ford Explorer 2002 Explorer-V6 Utility 2D Sport 4WD
Ford Explorer 2002 Explorer-V6 Utility 4D Eddie Bauer 2WD
Ford Explorer 2002 Explorer-V6 Utility 4D Eddie Bauer 4WD
Ford Explorer 2002 Explorer-V6 Utility 4D Limited 2WD
Ford Explorer 2002 Explorer-V6 Utility 4D Limited 4WD
Ford Explorer 2002 Explorer-V6 Utility 4D XLS 2WD
Ford Explorer 2002 Explorer-V6 Utility 4D XLS 4WD
Ford Explorer 2002 Explorer-V6 Utility 4D XLT 2WD
Ford Explorer 2002 Explorer-V6 Utility 4D XLT 4WD
Ford Explorer 2003 Explorer-V6 Utility 2D Sport XLS 2WD
Ford Explorer 2003 Explorer-V6 Utility 2D Sport XLS 4WD
Ford Explorer 2003 Explorer-V6 Utility 2D Sport XLT 2WD
Ford Explorer 2003 Explorer-V6 Utility 2D Sport XLT 4WD
Ford Explorer 2003 Explorer-V6 Utility 4D Eddie Bauer 2WD
Ford Explorer 2003 Explorer-V6 Utility 4D Eddie Bauer 4WD/AWD
Ford Explorer 2003 Explorer-V6 Utility 4D Limited 2WD
Ford Explorer 2003 Explorer-V6 Utility 4D Limited 4WD/AWD
Ford Explorer 2003 Explorer-V6 Utility 4D XLS 2WD
Ford Explorer 2003 Explorer-V6 Utility 4D XLS 4WD/AWD
Ford Explorer 2003 Explorer-V6 Utility 4D XLT 2WD
Ford Explorer 2003 Explorer-V6 Utility 4D XLT 4WD
Ford Explorer 2004 Explorer-V6 Utility 4D Eddie Bauer 2WD
Ford Explorer 2004 Explorer-V6 Utility 4D Eddie Bauer 4WD/AWD
Ford Explorer 2004 Explorer-V6 Utility 4D Limited 2WD
Ford Explorer 2004 Explorer-V6 Utility 4D Limited 4WD/AWD
Ford Explorer 2004 Explorer-V6 Utility 4D XLS 2WD
Ford Explorer 2004 Explorer-V6 Utility 4D XLS 4WD/AWD
Ford Explorer 2004 Explorer-V6 Utility 4D XLT 2WD
Ford Explorer 2004 Explorer-V6 Utility 4D XLT 4WD
Ford Explorer 2005 Explorer-V6 Utility 4D Eddie Bauer 2WD
Ford Explorer 2005 Explorer-V6 Utility 4D Eddie Bauer 4WD
Ford Explorer 2005 Explorer-V6 Utility 4D Limited 2WD
Ford Explorer 2005 Explorer-V6 Utility 4D Limited 4WD
Ford Explorer 2005 Explorer-V6 Utility 4D XLS 2WD
Ford Explorer 2005 Explorer-V6 Utility 4D XLS 4WD
Ford Explorer 2005 Explorer-V6 Utility 4D XLT 2WD
Ford Explorer 2005 Explorer-V6 Utility 4D XLT 4WD
Ford Explorer 2006 Explorer-V6 Utility 4D Eddie Bauer 2WD
Ford Explorer 2006 Explorer-V6 Utility 4D Eddie Bauer 4WD
Ford Explorer 2006 Explorer-V6 Utility 4D Limited 2WD
Ford Explorer 2006 Explorer-V6 Utility 4D Limited 4WD
Ford Explorer 2006 Explorer-V6 Utility 4D XLS 2WD
Ford Explorer 2006 Explorer-V6 Utility 4D XLS 4WD
Ford Explorer 2006 Explorer-V6 Utility 4D XLT 2WD
Ford Explorer 2006 Explorer-V6 Utility 4D XLT 4WD
Ford Explorer 2007 Explorer-V6 Utility 4D Eddie Bauer 2WD
Ford Explorer 2007 Explorer-V6 Utility 4D Eddie Bauer 4WD
Ford Explorer 2007 Explorer-V6 Utility 4D Limited 2WD
Ford Explorer 2007 Explorer-V6 Utility 4D Limited 4WD
Ford Explorer 2007 Explorer-V6 Utility 4D XLT 2WD
Ford Explorer 2007 Explorer-V6 Utility 4D XLT 4WD
Ford Explorer 2008 Explorer-V6 Utility 4D Eddie Bauer 2WD
Ford Explorer 2008 Explorer-V6 Utility 4D Eddie Bauer 4WD/AWD
Ford Explorer 2008 Explorer-V6 Utility 4D Limited 2WD
Ford Explorer 2008 Explorer-V6 Utility 4D Limited 4WD/AWD
Ford Explorer 2008 Explorer-V6 Utility 4D XLT 2WD
Ford Explorer 2008 Explorer-V6 Utility 4D XLT 4WD
Ford Explorer 2009 Explorer-V6 Utility 4D Eddie Bauer 2WD
Ford Explorer 2009 Explorer-V6 Utility 4D Eddie Bauer 4WD/AWD
Ford Explorer 2009 Explorer-V6 Utility 4D Limited 2WD
Ford Explorer 2009 Explorer-V6 Utility 4D Limited 4WD/AWD
Ford Explorer 2009 Explorer-V6 Utility 4D XLT 2WD
Ford Explorer 2009 Explorer-V6 Utility 4D XLT 4WD/AWD
Ford Explorer 2010 Explorer-V6 Utility 4D Eddie Bauer 2WD
Ford Explorer 2010 Explorer-V6 Utility 4D Eddie Bauer 4WD/AWD
Ford Explorer 2010 Explorer-V6 Utility 4D Limited 2WD
Ford Explorer 2010 Explorer-V6 Utility 4D Limited 4WD/AWD
Ford Explorer 2010 Explorer-V6 Utility 4D XLT 2WD
Ford Explorer 2010 Explorer-V6 Utility 4D XLT 4WD/AWD
Ford Explorer 2011 Explorer-V6 Utility 4D 2WD
Ford Explorer 2011 Explorer-V6 Utility 4D 4WD
Ford Explorer 2011 Explorer-V6 Utility 4D Limited 2WD
Ford Explorer 2011 Explorer-V6 Utility 4D Limited 4WD
Ford Explorer 2011 Explorer-V6 Utility 4D XLT 2WD
Ford Explorer 2011 Explorer-V6 Utility 4D XLT 4WD
Ford Explorer 2012 Explorer-V6 Utility 4D 2WD
Ford Explorer 2012 Explorer-V6 Utility 4D 4WD
Ford Explorer 2012 Explorer-V6 Utility 4D EcoBoost 2WD I4
Ford Explorer 2012 Explorer-V6 Utility 4D Limited 2WD
Ford Explorer 2012 Explorer-V6 Utility 4D Limited 4WD
Ford Explorer 2012 Explorer-V6 Utility 4D Limited EcoBoost 2WD I4
Ford Explorer 2012 Explorer-V6 Utility 4D XLT 2WD
Ford Explorer 2012 Explorer-V6 Utility 4D XLT 4WD
Ford Explorer 2012 Explorer-V6 Utility 4D XLT EcoBoost 2WD I4
Ford Explorer 2013 Explorer-V6 Utility 4D 2WD
Ford Explorer 2013 Explorer-V6 Utility 4D 4WD
Ford Explorer 2013 Explorer-V6 Utility 4D EcoBoost 2WD I4
Ford Explorer 2013 Explorer-V6 Utility 4D Limited 2WD
Ford Explorer 2013 Explorer-V6 Utility 4D Limited 4WD
Ford Explorer 2013 Explorer-V6 Utility 4D Limited EcoBoost 2WD I4
Ford Explorer 2013 Explorer-V6 Utility 4D Police 2WD
Ford Explorer 2013 Explorer-V6 Utility 4D Police AWD
Ford Explorer 2013 Explorer-V6 Utility 4D Sport 4WD
Ford Explorer 2013 Explorer-V6 Utility 4D XLT 2WD
Ford Explorer 2013 Explorer-V6 Utility 4D XLT 4WD
Ford Explorer 2013 Explorer-V6 Utility 4D XLT EcoBoost 2WD I4
Ford Explorer 2014 Explorer-V6 Utility 4D 2WD
Ford Explorer 2014 Explorer-V6 Utility 4D 4WD
Ford Explorer 2014 Explorer-V6 Utility 4D EcoBoost 2WD I4 Turbo
Ford Explorer 2014 Explorer-V6 Utility 4D Limited 2WD
Ford Explorer 2014 Explorer-V6 Utility 4D Limited 4WD
Ford Explorer 2014 Explorer-V6 Utility 4D Limited EcoBoost 2WD I4
Ford Explorer 2014 Explorer-V6 Utility 4D Police AWD
Ford Explorer 2014 Explorer-V6 Utility 4D Police EcoBoost AWD V6
Ford Explorer 2014 Explorer-V6 Utility 4D Sport 4WD
Ford Explorer 2014 Explorer-V6 Utility 4D XLT 2WD
Ford Explorer 2014 Explorer-V6 Utility 4D XLT 4WD
Ford Explorer 2014 Explorer-V6 Utility 4D XLT EcoBoost 2WD I4
Ford Explorer 2015 Explorer Utility 4D 2WD V6
Ford Explorer 2015 Explorer Utility 4D 4WD V6
Ford Explorer 2015 Explorer Utility 4D EcoBoost 2WD I4 Turbo
Ford Explorer 2015 Explorer Utility 4D Limited 2WD V6
Ford Explorer 2015 Explorer Utility 4D Limited 4WD V6
Ford Explorer 2015 Explorer Utility 4D Limited EcoBoost 2WD I4
Ford Explorer 2015 Explorer Utility 4D Police AWD V6
Ford Explorer 2015 Explorer Utility 4D Police EcoBoost AWD V6
Ford Explorer 2015 Explorer Utility 4D Sport 4WD V6
Ford Explorer 2015 Explorer Utility 4D XLT 2WD V6
Ford Explorer 2015 Explorer Utility 4D XLT 4WD V6
Ford Explorer 2015 Explorer Utility 4D XLT EcoBoost 2WD I4