Specialist Oldsmobile Buyer Will Buy Your Alero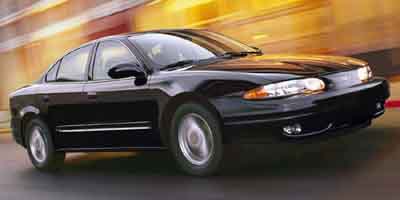 You can sell your Oldsmobile Alero online and avoid the hassle of listing it for sale or haggling with a used car dealer over its blue book valuation. As experienced, professional buyers of used cars, we can offer you fast, easy, and convenient service, as well as a fair Oldsmobile Alero price. We can give you a free online quote of the value of your Oldsmobile Alero in minutes. If you are happy with the price we offer, simply set an appointment to take your Oldsmobile Alero to one our nearby and friendly locations. After a quick inspection to confirm the information you gave us online, we will issue you a corporate check immediately. No hassle and no waiting. Now is the time to receive the fair value of your Oldsmobile Alero. Enter the necessary information about your Oldsmobile Alero and get started today. We guarantee to buy your Oldsmobile Alero. It's quick, easy, safe, and worry-free. Enter your Oldsmobile Alero information today to receive your free valuation of your car.
The Oldsmobile Alero is a compact car that was manufactured for only five years from 1999 to 2004. The Oldsmobile Alero would become the last compact car to be manufactured by Oldsmobile. The Oldsmobile Alero was offered as either a 2-door coupe or 4-door sedan. Engine sizes offered were 3.4L V6 or a more economic 2.4L (2.2L from 2002).
We Currently Have High Demand for Models:
Oldsmobile Alero 1999 Alero-V6 Sedan 4D GL
Oldsmobile Alero 1999 Alero-V6 Coupe 2D GL
Oldsmobile Alero 1999 Alero-V6 Sedan 4D GLS
Oldsmobile Alero 1999 Alero-4 Cyl. Sedan 4D GX
Oldsmobile Alero 1999 Alero-4 Cyl. Coupe 2D GX
Oldsmobile Alero 1999 Alero-4 Cyl. Sedan 4D GL
Oldsmobile Alero 1999 Alero-4 Cyl. Coupe 2D GL
Oldsmobile Alero 1999 Alero-V6 Coupe 2D GLS
Oldsmobile Alero 2000 Alero-V6 Sedan 4D GL
Oldsmobile Alero 2000 Alero-V6 Coupe 2D GL
Oldsmobile Alero 2000 Alero-V6 Sedan 4D GLS
Oldsmobile Alero 2000 Alero-V6 Coupe 2D GLS
Oldsmobile Alero 2000 Alero-4 Cyl. Sedan 4D GX
Oldsmobile Alero 2000 Alero-4 Cyl. Coupe 2D GX
Oldsmobile Alero 2000 Alero-4 Cyl. Sedan 4D GL
Oldsmobile Alero 2000 Alero-4 Cyl. Coupe 2D GL
Oldsmobile Alero 2001 Alero-V6 Sedan 4D GL
Oldsmobile Alero 2001 Alero-V6 Coupe 2D GL
Oldsmobile Alero 2001 Alero-V6 Sedan 4D GLS
Oldsmobile Alero 2001 Alero-V6 Coupe 2D GLS
Oldsmobile Alero 2001 Alero-4 Cyl. Sedan 4D GX
Oldsmobile Alero 2001 Alero-4 Cyl. Coupe 2D GX
Oldsmobile Alero 2001 Alero-4 Cyl. Sedan 4D GL
Oldsmobile Alero 2001 Alero-4 Cyl. Coupe 2D GL
Oldsmobile Alero 2002 Alero-V6 Sedan 4D GL
Oldsmobile Alero 2002 Alero-V6 Coupe 2D GL
Oldsmobile Alero 2002 Alero-V6 Sedan 4D GLS
Oldsmobile Alero 2002 Alero-V6 Coupe 2D GLS
Oldsmobile Alero 2002 Alero-4 Cyl. Sedan 4D GX
Oldsmobile Alero 2002 Alero-4 Cyl. Coupe 2D GX
Oldsmobile Alero 2002 Alero-4 Cyl. Sedan 4D GL
Oldsmobile Alero 2002 Alero-4 Cyl. Coupe 2D GL
Oldsmobile Alero 2003 Alero-4 Cyl. Sedan 4D GX
Oldsmobile Alero 2003 Alero-4 Cyl. Coupe 2D GX
Oldsmobile Alero 2003 Alero-4 Cyl. Sedan 4D GL
Oldsmobile Alero 2003 Alero-4 Cyl. Coupe 2D GL
Oldsmobile Alero 2003 Alero-V6 Sedan 4D GL
Oldsmobile Alero 2003 Alero-V6 Coupe 2D GL
Oldsmobile Alero 2003 Alero-V6 Sedan 4D GLS
Oldsmobile Alero 2003 Alero-V6 Coupe 2D GLS
Oldsmobile Alero 2004 Alero-4 Cyl. Sedan 4D GX
Oldsmobile Alero 2004 Alero-4 Cyl. Coupe 2D GL
Oldsmobile Alero 2004 Alero-4 Cyl. Coupe 2D GX
Oldsmobile Alero 2004 Alero-4 Cyl. Sedan 4D GL
Oldsmobile Alero 2004 Alero-V6 Coupe 2D GL
Oldsmobile Alero 2004 Alero-V6 Coupe 2D GLS
Oldsmobile Alero 2004 Alero-V6 Sedan 4D GL
Oldsmobile Alero 2004 Alero-V6 Sedan 4D GLS