10 Car Companies Offer Standard Automatic Braking Sep 23, 2015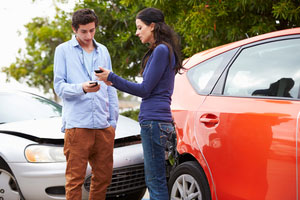 Human error is unavoidable. We make mistakes, blunders and goof ups all the time, no matter how hard we try. Sometimes those mistakes are harmless and funny, other times they can be quite deadly.
Every single day, mistakes on the road cause property damage, personal injury and even death. No matter how careful we think we are, inevitably the unexpected is going to happen. Regardless of how much we try,there is always going to be a drowsy or distracted driver on the road. It's plain to see and easy to understand, that's why back in June, the National Transportation Safety Board recommended that automatic braking systems be required on all new model vehicles.
These automotive braking systems use a variety of ways to detect an impending impact and automatically stop the car short. Using radar, lasers or cameras, these systems are capable of decreasing the chance of an accident significantly. They are especially effective at preventing rear-end collisions, one of the most common types of car accidents on the road. In 2012, rear-end collisions caused 1,700 deaths and 500,000 injuries according to government statistics.
Currently automatic braking systems are most commonly seen as an additional option the car buyer has to purchase, unless it's a luxury vehicle where more advanced features are standard. However, in an unprecedented move, ten major auto makers who make up over half of new cars sold in the United States have come together and pledged to make automatic braking technology standard on all of their vehicles.
The ten automakers, Audi, BMW, Ford, General Motors, Mazda, Mercedes-Benz, Tesla, Toyota, Volkswagen and Volvo are working together on a timeline for when the technology will be made standard. The automakers will most likely make an announcement in conjunction with the U.S. National Highway Traffic Safety Administration (NHTSA) and the Insurance institute for Highway Safety. (IIHS)
IIHS President Adrian Lund commented on the announcement saying, "Most crashes involve driver error. This technology can compensate for the mistakes every driver makes because the systems are always on alert, monitoring the road ahead and never getting tired or distracted."
This is following a trend where optional safety equipment, which is first available in luxury vehicles is becoming standard due to public pressure. Just last year back-up cameras were ruled mandatory on all new cars by the NHTSA starting in May 2018.