2015 Auto Industry Predictions Jan 07, 2015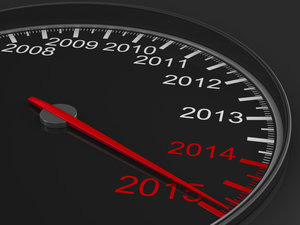 As year-end reports, annual lists and look-backs at 2014 come to a close, we naturally shift our attention to the New Year and new beginnings. It's normal to want to predict and guess what 2015 has in store. When dealing with the auto industry there is a lot to talk about, a lot to foresee, and certainly a lot that can go awry.
2014 was a positive year for the auto industry as far as sales. 2014 saw the best auto sales in nearly a decade but it also saw some of the most damaging PR in recent history with a string of recalls, crashes and deaths. While hindsight is generally rosy for 2014 we wanted to know what we should expect from 2015. Detroit Free Press with the help of some other resources, put together a pretty comprehensive outlook for 2015.
They split their predictions up into two categories, safe predictions and bold predictions. What do you think? Do you agree? Read their 2015 predictions below and then sound off on our facebook page or tweet us your thoughts at @webuyanycarusa.
Safe predictions
Sales stay strong: We're not at the peak of this strong auto sales cycle yet.
TrueCar, the car-buying and selling platform, forecasts Americans will buy 17 million new cars and trucks next year, the highest level since 2005, and not too far below the industry's best-ever annual mark of 17.4 million in 2000.
"We see a convergence of favorable economic circumstances pushing auto demand up to prerecession levels, the best consumer sentiment in eight years and low fuel prices," said John Krafcik, TrueCar president.
Upscale still sells: People who can afford to spend a lot on their next vehicle will. Luxury cars, crossover and increasingly upscale pickups will sell at record prices because affluent buyers' appetite for the latest bells and whistles is not sated.
This is a reflection of easy credit, continued low interest rates and stronger income growth among wealthy consumers.
Gas prices volatile: Prices at the pump will be more volatile as lower prices force higher-cost refiners, including some relying on Canadian tar sand crude, to cut back on production or to exit the market. Look for a moderate increase in prices beginning in late March or April as refiners switch to summer blends, but prices will settle in the $2.50 to $2.75 range by late summer and early fall.
Sales of hybrids and plug-in electric vehicles will struggle: Except on the West Coast where climate change concerns, tax incentives and Silicon Valley's loyalty to Tesla will keep EVs off the endangered species list.
Recalls continue: Expect the recall surge to continue, both from the National Highway Traffic Safety Administration and the industry acting pre-emptively. New NHTSA chief Mark Rosekind must prove his regulator credibility both with his own understaffed agency and the politicians that accused his predecessors of being insufficiently vigilant.
Bold predictions
Truck price war: A price war will break out among the major pickup manufacturers, partially in retaliation against Ford's aluminum F-150, which will sell well, but not at the lofty profit margins Ford envisioned. Aluminum prices will rise as steel prices fall.
CAFE standards rollback: Someone from the Detroit 3 will suggest that the Obama administration's 54.5 miles-per-gallon by 2025 standard should be revised or repealed.
Free bicycle: Some automaker, in an effort to reach Millennials, at least in selected urban markets, will offer a free bicycle and carrier, with the purchase of certain models.
Major merger: When the industry is this hot, investment bankers come knocking on the door with all kinds of merger and acquisition deals. Expect a major bid involving two — probably European-based automakers. Don't rule out Volkswagen making a run at Fiat. Sergio Marchionne will fight it to the bitter end.
UAW strikes: After a short strike against General Motors, the UAW and all three Detroit automakers will agree to a contract that grants a very small base wage increase to workers hired before 2007 and narrows the gap between them and the more recent hires. The contract also will have incentives for workers with more than 25 years of service to retire.
Original Story: http://on.freep.com/1AFKITS