Clean Your Car like a Pro Aug 05, 2015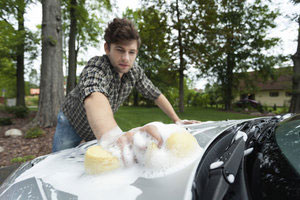 The best wash is a hand wash. It may come as a surprise to some but experts believe that even with all the calibrated machinery and technology of a state of the art car wash, it still can't beat a good ol' fashioned hand wash if done right. The problem is, most people aren't hand washing their car properly.
Washing your car for pride, convenience or even cost takes time, so if you're going to invest the effort make sure you clean it like a pro. Below are some tips on proper cleaning techniques that you could utilize this weekend to get your car shining like never before.
First, move your car to a shaded area if possible. When washing your vehicle you want the surface to be cool, otherwise the soap suds could dry and stain the surface. Once the vehicle is out of direct sunlight pre-soak the vehicle to remove any large debris that can easily be sprayed off.
Now before you jump right in and start soaping up your vehicle we need to talk about the actual soap. It may feel natural to reach for your dish soap or something similar but this is a big mistake. Dish soap is full of degreasers which are needed to get your dinner plates clean but the chemicals present will also strip the finishing on your car as well. You'll want to use soap designed specifically for cars which can be purchased at any local auto store.
Now it's time to finally wash the car. Don't just soap up the entire car all at once. Doing so will leave a streaky clean as the dirt won't all wash off. It's best to wash and rinse one section at a time. Start with the roof then work your way down from the hood to the lower areas. If you clean the lower sections first, you'll wash the dirt from the top and have it collect at the bottom again.
Rinse. Rinse. Rinse. When you think you are done, rinse some more. Clean paint is bright and shiny and will only get that way if the soap is truly cleared away. Soap that is left on the vehicle will stain the surface and require another wash. Once the car is clean and doesn't feel rough to the touch, you will want to dry immediately with a chamois to prevent water spots.
When done washing, protect your vehicle with wax. Paste or liquids makes no difference in our eyes just as long as you apply two coats. The reason for two coats is to hopefully catch any spots the first round missed. It's doesn't actually add a second layer of protection, so waxing any more than twice is just a waste of time and money.
Finally, clean the glass to make it shine. Do this last because the glass will have dirt and grime on it from previous steps. Use any household cleaner specifically for glass, wipe with a microfiber cloth to make sure you are removing all the residue and avoiding the dreaded window streaks. Follow the above steps and you will have a vehicle that looks like it came right off the showroom floor. Repeat when necessary for a vehicle that will look great for years to come.