EPA Estimates Vary Wildly From Actual Fuel-Economy Jun 17, 2015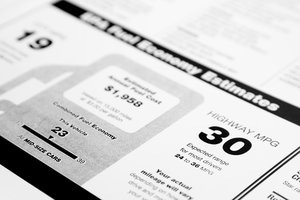 Do you trust the EPA estimates posted in the window of new cars? Should you trust that number? Most consumers tend to be skeptical and if you are one of them, you are not alone. One in three drivers don't trust fuel-economy numbers and they would be right to feel that way. AAA conducted a study and found that actual gas mileage varies significantly from the estimates certified by the Environmental Protection Agency.
What is surprising though is that AAA discovered 8 out of 10 drivers reported getting more miles per gallon than posted. That is a refreshing statistic. With vehicle manufacturers catching a lot of negative attention with recalls and demand outpacing supply amongst other things, it's nice to see the numbers actually favor motorists in this instance.
John Nielsen, AAA's managing director of automotive engineering and repair commented saying, "For years we've heard that drivers question whether the fuel economy rating for their vehicle is accurate. It's encouraging to see real-world fuel economy that more closely aligns with, or even exceeds, automaker promises."
Not every discrepancy swings in favor of the vehicle owner however. Some motorists make out while others actually don't reach the advertised potential. Owners with turbocharged V6 engines reported fuel-economy 9 percent lower than EPA estimates. Diesel owners, on the other hand, fare the best with reports showing real-life mileage often times 20 percent higher than fuel economy estimates.
The data AAA used was from 37,000 records submitted to the EPA spanning over 8,400 make, model and year combinations. Still experts believe more than anything, how a person drives their vehicle will ultimately determine how many MPG they receive. AAA says its study found driving behavior, rather than mechanical troubles. Are likely responsible for most fuel-economy variances.
AAA continues to study driving behavior and its effect on fuel economy and is expecting to release more results from different studies about this very topic later this year. Still AAA understands folks wanting to get the most mileage out of their vehicle, and to that end, the organization offers a few tips for drivers looking to stretch their fuel budget.
Accelerate gently: The harder you accelerate, the more fuel you consume. Maximize fuel efficiency by taking five seconds to accelerate from a stop to 15 miles per hour.
Avoid high speeds: Vehicles are most efficient when traveling between 30 and 50 miles per hour. Every five mph above 50 mph costs drivers an extra 19 cents per gallon of gas, according to estimates from the Department of Energy.
Maintain steady speed: Impossible on your commute, probably. But tests have shown that using cruise control on the highway can save fuel by avoiding speeding and slowing down.
*http://publicaffairsresources.aaa.biz/wp-content/uploads/2015/06/FE2-Fact-Sheet-FINAL.pdf