Tech Challenges Facing Autonomous Vehicles May 07, 2015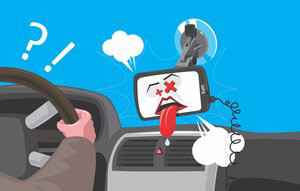 It's all the rage! From car enthusiast and the media, to software companies and vehicle manufacturers, self-driving cars are on everyone's lips. There is a race to be the first company to offer fully autonomous vehicles and a passion from the public to know every up-to-the-minute detail about them. Before we start picturing some sci-fi flick with robot butlers and flying cars however, we have to step back and realize that we are still years away from a finished product.
There are many hurdles to overcome before we can take a nap while traveling down the highway. Companies are keeping people excited by constantly offering new technology as it becomes available. It's as if the self-driving car will be released over time in bits and pieces rather than all at once. From park assist to automatic braking and advanced infotainment systems, cars have already made the move from machine to rolling computer. When taking note of each technological advancement however, one must also realize just how many technological issues have arisen as well.
Almost every time the newest gadget is rolled out, problems arise. The problem stems from a cultural difference between Silicon Valley and Detroit Motor City. Vehicle manufacturers spend years bringing a new car to market. Constant testing and analysis is done to make sure everything works as it should. Car companies place the success of their business on safety and performance. Silicon Valley on the other hand is constantly turning out new products, and new updates for those new products. It's not uncommon to see an idea go from the drawing board to the public's hands in just a few months.
This fundamental difference in how business gets accomplished has already affected vehicle technology and will continue to stall the autonomous vehicle. In a 2013 survey consumer reports discovered almost 60% of drivers 45 and older found their infotainment system to be complicated. That number continued to rise well over 60% as the driver aged into their 60's. Some of the main points of contention were over voice control and touch screens. In Silicon Valley, an update would be pushed out to fix problems and make the user experience better. In Detroit, an update like that is a much bigger problem to fix.
Finally, and most importantly, is an individual's private data. Keeping everyone's data secure and private is something Silicon Valley is pretty good with. Detroit and vehicle manufacturers don't have a history when it comes to things like that. In the future, your car might turn your house lights on, tell you show times for movies that are playing around you, even tell you the cost of gas at the next station. For this to happen cars are going to need to know a ton about you. Making sure this information doesn't fall into the wrong hands is vital to success.
So while it's great to dream about autonomous vehicles and being able to take both hands off the steering wheel, many important challenges still lie ahead before we will see self-driving cars in local dealership showrooms. The most important is the growing pains of getting Detroit to think and act a bit more like Silicon Valley.