The Safest and Most Dangerous Vehicles Feb 04, 2015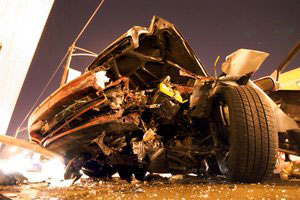 A new study by the Insurance Institute for Highway Safety (IIHS) shows that improved vehicle designs have brought down vehicle death rates. Still the chances of getting killed in a car accident vary dramatically depending on the car you drive. While some models have a zero in the death column for years studied other vehicles still have death rates exceeding 100 per million registered vehicles.
The IIHS' study which was released last week looked at 2011 model vehicles. The data showed nine vehicles with an overall "driver deaths per million registered vehicle years" at zero. Eight years ago there weren't any vehicles on the road that could boast a zero for overall driver deaths per million registered vehicle years. In a three-year span, the average death rate fell from 48 fatalities per million registered vehicles for 2008 models to 28 fatalities per million registrations for 2011 models.
"This is a huge improvement in just three years, even considering the economy's influence," says David Zuby, IIHS executive vice president and chief research officer. "We know from our vehicle ratings program that crash test performance has been getting steadily better. These latest death rates provide new confirmation that real-world outcomes are improving, too."
So what are the safest cars on the road right now? The nine vehicles with zero driver deaths per million registered vehicle years are the Audi A4 4WD, the Honda Odyssey, the Kia Sorento 2WD, Lexus RX 350 4WD, Mercedes-Benz GL-Class 4WD, Subaru Legacy 4WD, Toyota Highlander Hybrid 4WD, Toyota Sequoia 4WD, and Volvo XC90 4WD.
The three most dangerous vehicles on the road with a death rate over 100 per million registered vehicles are the Kia Rio, Nissan Versa sedan and the Hyundai Accent. Not so coincidentally you can see that the safer vehicles are SUV's, Minivans and large sedans. All of which offer more protection to the driver because of their size, weight and height.
The goal is to one day have zero motor vehicle deaths in the United States. "The complete elimination of traffic deaths is still many decades away, and, along with vehicle improvements, getting there will require changes in road design and public policy that can help protect all road users," Zuby says. "Still, the rise in the number of vehicles with zero driver deaths shows what's possible."