webuyanycar Recognized for Excellence in Service Mar 27, 2015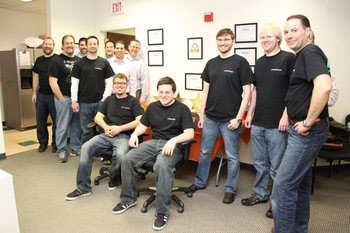 webuyanycar.com Recognized By TrustPilot for Excellence in Customer Service
Media, PA (March 27, 2015)
– Expert car buyers, webuyanycar.com have been recognized by independent review website, Trustpilot for excellence in customer service.
Philadelphia-based car buyer, webuyanycar.com, serving millions of people with branches in 6 states across the east coast has been honored with the High Flyers award for the month of March from Trustpilot.com. webuyanycar.com currently holds a 5-star customer review grade with a 9.1 out of an available 10 from 975 verified customer reviews.
Vince Abate, Vice President of Operations for webuyanycar.com spoke about their partnership with Trustpilot and the honor of winning the High Flyers award saying, "Trustpilot has been an invaluable resource for webuyanycar.com, helping us to build on a foundation of customer service excellence. Selling a car can be a stressful experience and many customers mistrust traditional car dealers. Trustpilot enables our customers to share their experiences in a transparent way, truly showing how webuyanycar.com has differentiated itself from the rest of the car industry. We can see how our associates are doing from a customer service perspective and we get a positive benefit from our customers paying it forward with positive customer service reviews."
This award follows on the heels of webuyanycar.com's recent expansion into the Northern New Jersey and Atlanta, Georgia markets. Now serving customers with 42 branch locations, webuyanycar.com has quickly established itself as a premier car buyer and the only true alternative to dealer trade-ins and traditional private sales. Recognized for its advanced pricing algorithm which allows customers to get an accurate valuation for their specific car online, webuyanycar.com has quickly become a household name.
Webuyanycar.com's Trustpilot page features glowing reviews. Customers like Robin from Potomac, MD said, "My new favorite place to sell a used car. I really like the online valuation so I know I'm not wasting my time – the competitors won't even give you a range. My appointment was on-time and the process was quick. I walked out with my check in about 30 minutes." Aaron from Pittsburgh, PA echoed Robin's sentiments saying, "webuyanycar is the way to go if you want to sell your car quick and easy with no hassles. It simply took about 30 minutes and we drove away with a check in hand."
For more information on how webuyanycar.com can buy your vehicle in a fast, safe and fair way please visit their website at www.webuyanycar.com.